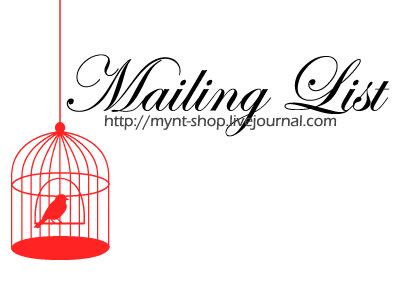 Do add us to avoid the mailers being ended up in your "SPAM" mail :))

To receive the latest updates
1. Add us as a friend on FaceBook!
2. Join our Facebook Fan Page!
3. Follow Noi or MYnt on Twitter!
4. Get the latest news on Noi's blog!

Email accounts for mailers
myntloves.mailinglist@gmail.com
mysteriouslyyours-@hotmail.com
myntloves@gmail.com

For any enquiries or customisation requestions,
Email us at myntloves@gmail.com♥
Proud moments to share for MYnt... :)
thanks to all your support for the past years!